BEST COFFEE IN BALLARAT


The café scene in Ballarat has come a long way in a relatively short period of time. There are some solid cafes that have been there for some years now and other new(er) comers who are really hitting the mark and pushing the quality up for excellent brews and tasty food offerings. By no means is this list exhaustive, and there will be many more places popping up soon, but here are seven of the best cafes and great lunch locations to grab a coffee and some delicious food in Ballarat.

Coffee: Rumble Coffee
︎2 Lydiard St S, Ballarat Central, VIC 3350



Cobb's Coffee (or just 'Cobbs' as the locals say) opened its doors in December 2020. Since then it's been serving high-quality specialty coffee to Ballarat locals. Just off the main street in one of Ballarat's heritage buildings, the café's light-filled space is as inviting as the staff and owner, Brendan Wrigley. Who, after returning to Ballarat from working at London's prestigious Rosslyn, knew he wanted to open Ballarat's best new local café.

While being simple, the offerings are high quality. For milk coffees, they use Rumble's classic blend Haymaker. For black espresso and filter coffees, they have a constantly rotating list of Rumbles top notch single origin coffees. It's a favourite for local business people, as well as melbourne roadtrippers on the hunt for a coffee break, and it's no wonder why.



As for food, it's sangas all the way. With classics like the HTC and roast chicken (best fresh), you're sure to find delicious food at cobb's coffee.

Need something to take home, or to your next stop on your trip? They have you covered and then some! Their shelves are constantly packed with fresh coffee, whether you need to drink it the next day or in a week's time. They also stock brew gear and other non-coffee drinks like hot chocolate and chai that you can take with you.



With a focus on quality service, the best coffee and a great atmosphere, Cobbs is the perfect spot in Ballarat, and really showcases the hospitality industry for all the right reasons. If you're heading for a day trip to regional Victoria or thinking of becoming a Ballarat local, drop into Cobb's; the team look forward to meeting you.



2. Fika

Coffee: St. Ali + Proud Mary
︎36A Doveton St N, Ballarat Central, VIC 3350

Fika has established itself as one of the great cafes of Ballarat and it has a 7 year history to prove it. Opening its doors in 2015, it didn't take long before it was a local hotspot. Serving up smashing flat whites with St. Ali and rotating through single origins on their espresso and filter coffee from the likes of Proud Mary, they always have something tasty to sip.

Fika isn't just known for their coffee though. It's one of Ballarat's great lunch locations too. The classics like the Boy From The South and The Crowd Favourite never stop. Paring that with some newer additions to the menu, including the Braised Chickpeas and Fig And Noix De Jambon, it's got some really good quality options if you're in the area.


Coffee: Dukes
︎227 Grant St, Golden Point VIC 3350

When you didn't know the next café you wanted to visit was in an old corner garage. A little away from Ballarat Central in Golden Point, grabbing an outdoor table on a sunny day at Drive is to die for.


Photo: Drive Cafe, Visit Ballarat

Knocking out great coffees, whether it's a milky, black, or on ice. Oh, and don't forget their classic range of shakes (Blue Heaven anyone?).

The menu at Drive has something for everyone. For breakfast, you could grab a warming Apple Porridge, for the sweet tooth the Banoffee Waffles or maybe you just need a Chilli Scramble. Looking for lunch? Sink your teeth into the Fried Chicken Burger or hit the Roasted Fennel Bruschetta.

A great place to sit and watch the world go by.


Coffee: Five Senses
︎413 Sturt St, Ballarat Central VIC 3350

This swish looking café has been serving Ballarat for a few years now. Located right in the thick of things, on Sturt Street in Ballarat Central, they're always worth a drop in.

Serving the classic Dark Horse blend by Five Senses, Higher Society is a great stop for a milk coffee.

If you want a bite, their menu is super tasty and different. Sure they have eggs, but try the Korean Cauliflower wings or hit up the Rubano. Higher Society really hit the mark.


Coffee: Seven Seeds
︎3 McKenzie St, Ballarat Central VIC 3350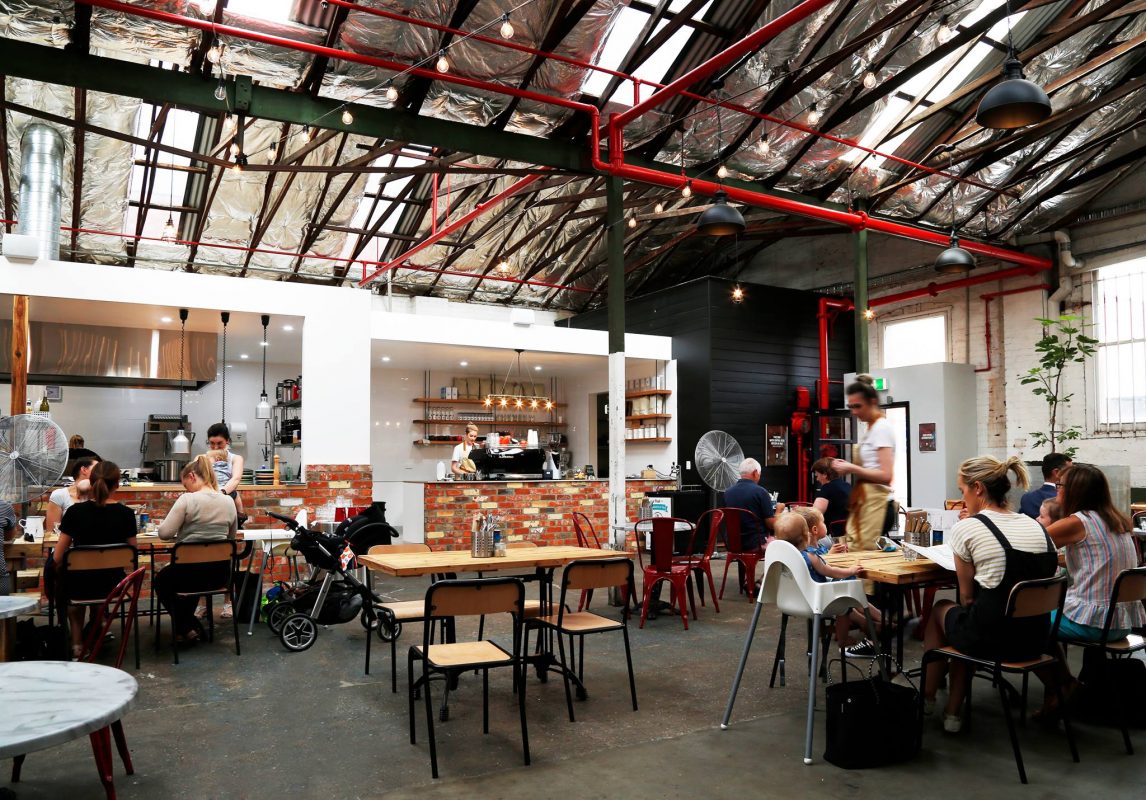 Photo: Hydrant Food Hall
Hidden in a Ballarat heritage laneway, Hydrant is a quiet and relaxed cafe, located in an old warehouse. It's great for a feed, and kid friendly. It has easy access for prams and wheelchairs, should you need it.

A place to get a tasty Golden Gate Blend flat white, you know you're in for a good time. To go along with your brew, you can grab something delicious to eat from the menu. The breakfast options are full of old favourites, like the Eggs Benny or if you're after lunch, the choices are eclectic and delicious.


Coffee: Axil
︎13 Sturt St, Ballarat Central VIC 3350

Yellow Espresso has been holding it down at the bottom end of Sturt Street for some time now. A bustling café, it offers some outstanding healthy eats and vegan offerings.

When you're smashing your Axil flat white, you might want something to go with it and at Yellow they have some seriously good food to go with it. From the smoothie bowls to the vegan matcha pancakes, they really hit the mark. Not only that, they have a killer BLT.


Coffee: Hillbilly Coffee
︎18 Armstrong St N, Ballarat Central VIC 3350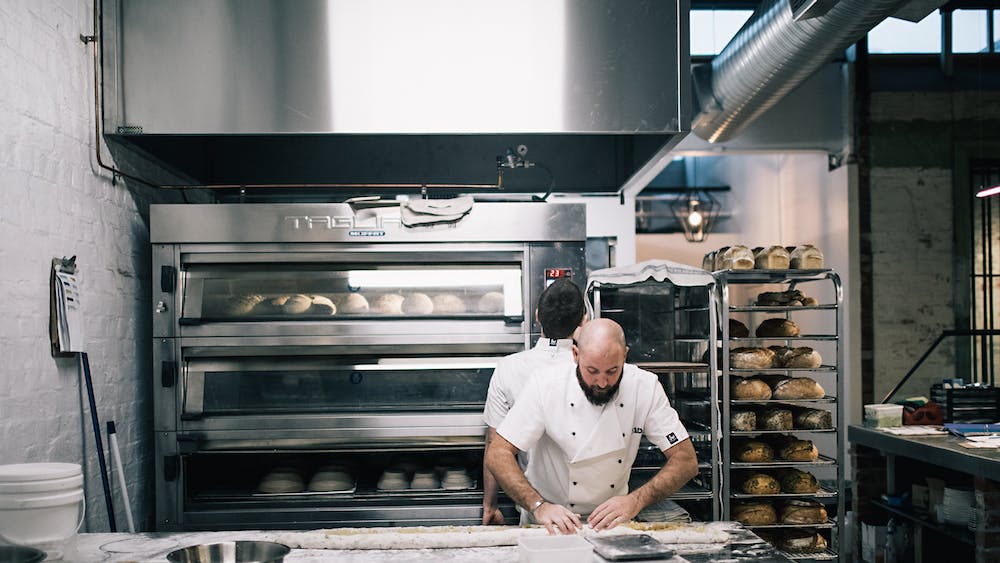 Photo: 1816 Bakehouse, Visit Ballarat
Located on Armstrong Street, 1816 have been selling out of their awesome breads and pastries since just about day one! Not only that, they supply some of the best cafés in Ballarat (and the surrounding region) with their baked goods.

Go in, grab a loaf and a pastry, along with your Hillbilly flat white and get out into the town.


---

If you haven't visited Ballarat for a while or even in the last year, you'll find there are some great recent additions to the coffee scene. Ballarat is quickly becoming one of the best towns in regional Victoria, to get something to eat and drink, any time of the day. So get west and see what's on offer!